From the Tea-BookShelf of Stephanie Dodaro
I talk often of my favorite books and authors to almost everyone I know, sometimes to the exasperation of those around me who are not such bibliophiles. Among those with whom I share my enthusiasm are especially my students. I had recently started another read of Albert Camus'
The Stranger
for a student who wished to practice French by reading the novel, a great choice for an upper-intermediate due to the rather simple language that Camus uses, deliberately. I have always enjoyed this novel, and each reading has brought new ideas to mind, and has deepened my understanding of his philosophy. It is always so amazing to me how such a relatively short, simply-written novel can pack such a deep meaning within the pages. Yet it does this
perfectly. While sharing these ideas with another student during conversation, we began to discuss this book by Kaplan. Never have I ever seen a biography quite like this, a biography of a novel!
And it is as much Camus' biography as it is a biography of the novel, how it came about, what was happening in Camus' life that may have led to his writing this book when he did and in the way that he did. This is exactly what Kaplan has done. Camus worked as a journalist long before he became a writer, and had he not had a health condition, may have become a professor. He studied literature and philosophy in college and kept a close relationship with his professor long after finishing his studies. As a journalist, he was frequently inside the courtrooms taking notes on cases to report on them later for his papers. This insider's view of a court drama may very well have led to the realistic and detailed court proceedings of
The Stranger
in part two of the book. Camus' studies on St. Augustine in his college courses may have also led to one of the major points that condemns his main character. St. Augustine, miserable over his mother's death, had refused to cry at her funeral and looked for consolation in the baths. This must have made an impact on him, as it is almost exactly how it happens in his novel, and is one of the most important damning pieces of evidence.
Yet
The Stranger
was not meant to be his first novel. He had begun work on another novel and was struggling to get it out onto paper. This was when characters of another book, of another story, started to creep their way in. So he started a notebook and kept notes. Eventually the character of
The Stranger
started to take shape. During a trip to Paris to work for a friend at a newspaper, and a dark, dank apartment in Montmartre where he felt himself "a stranger", the novel practically wrote itself. He wrote in his notebooks: "Story: the man who doesn't want to justify himself…" (p 29) That just about sums it up.
The main character Meursault has a name that is so intriguing that it could not have been accidentally chosen. It at the same time contains the two most important elements of the book,
mer
which in French signifies "sea", and
sol
which is a Latin root for "sun". But it also contains the French
meur(t)
which is "death",
saut
"jump" (take a plunge) and
mère
"mother" . A fascinating combination of significant words, all of which have relevance to the story. Meursault, our narrator and main character, relates events in a way that comes across dry, simplified and emotionless. This is Camus' new take on fiction. "The true work of art is one that says the least." In a way it leaves us free to interpret, makes us fill in the gaps. And in fact that is exactly what most readers do, finding many different ways to interpret the plot, the narrator's motivations, decide whether he is guilty and exactly of what he is guilty. In another post I will try to discuss more of the story itself. For now, Kaplan's book leaves us plenty to discuss here.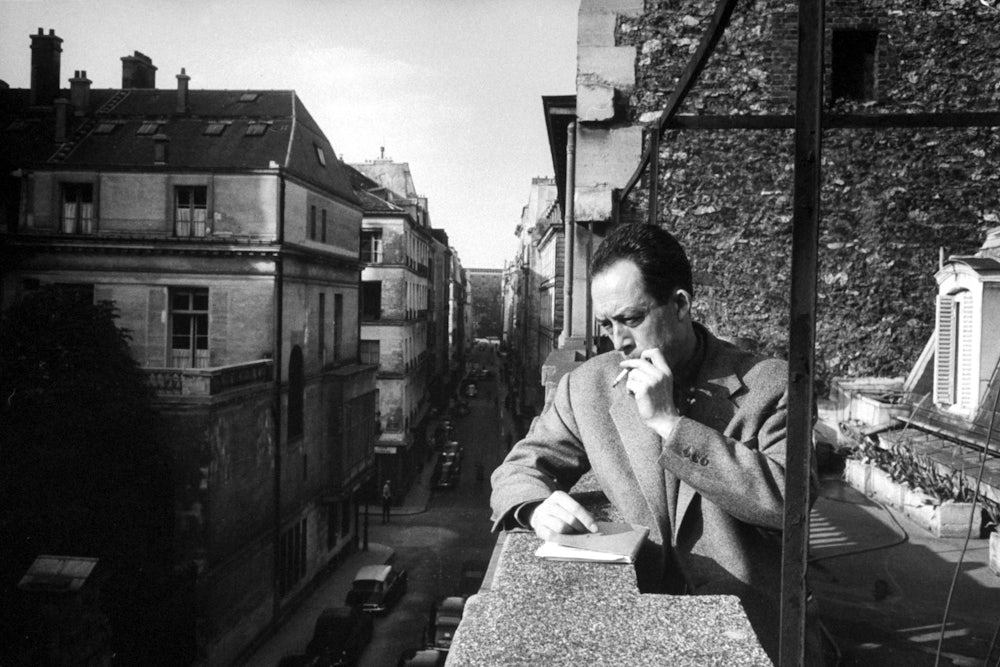 It was fascinating to see how many events of Camus' life show up in his books. From the funeral of a family member that he attended, to a movie he saw, to his love of bathing the beach or pool, even to a famous crime reported on in the newspapers about a fight on a beach. All of this was inching its way into his book, even before he knew it. Meanwhile all of this is happening as war is looking more and more likely in Europe.
The Stranger
will eventually, maybe miraculously, find publication during Nazi control of France in 1942, even during censorship and paper shortages. I say miraculously because during an evacuation from Paris, Camus is said to have left his apartment with only his sole copy of the manuscript (having only just finished it), leaving behind all other personal items and notebooks, all of which would be tossed in the trash when Nazi troops took over the building.
There is so much I can say about this book that I myself could go on to write a book in praise of it. All I can do to stop myself here is to say, if you are a fan of Camus,
The Stranger,
or the absurdist movement at all, this book should be on your short list of books to read next. It gives wonderful insight into the process of writing, the time period in which Camus was writing, the author himself, and the evolution of his greatest novel ever. If I could give more than 5 stars I would.